I made the boys' Halloween costumes this year and it was definitely A LOT of work. Peter Pan was pretty simple, but the other two were a little complicated. I need to remember that for next year! It was fun though, and the boys loved them so I guess that made up for all the effort.
We went trick-or-treating with some friends, and we made it exactly 2 houses without incident...then B face-planted on our neighbor's front step and got a bloody nose. He managed to continue on for a little while, but it just wasn't as much fun after that!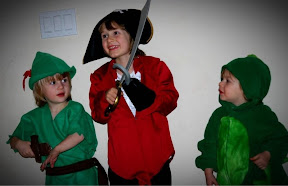 Peter Pan, Captain Hook, and the crocodile
Arrrrrrrrrrr! Preston thought it was pretty funny that Captain Hook wore tights and ruffles on his shirt. He said "this is girl's stuff right mom? Why would Captain Hook wear girl's stuff?!" I guess the hook and sword made up for it though.
B made the BEST Peter Pan. He was a little distraught that we forgot pixie dust so John sprinkled salt on his head...it seemed to do the trick!
And my little crocodile. He loved chasing his brothers around and smacking them with his tail.